Exton, Pennsylvania Pet Insurance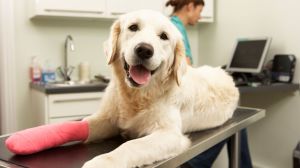 Pet insurance would cover expenses with your pet, dog or cat may have unexpected medical bills. Our pet insurance providers will reimburse your pet expenses after your pet is treated at the veterinarian. Pet Insurance has become more popular as the recent advancements in veterinary medicine are helping pets live longer, but many times these treatments can be costly.
Pet Insurance in Exton, Pennsylvania
At Chapracki Insurance Agency LLC, we can provide your pet insurance very affordably where you can visit any licensed vet, specialist or emergency room. So get a quote today to protect your pet and save money on your pet insurance and expenses.
For a self-service pet insurance quote, you can go to Pet Assure. Pet Assure has participating veterinarians in all 50 states, Puerto Rico, and Canada so there's sure to be a participating Pet Assure veterinarian near you. You can quickly sign-up and obtain a digital card to start saving on veterinary care. There are no waiting periods and you'll save at every vet appointment.
No Exclusions, Deductibles or Claim Forms
Since Pet Assure isn't insurance, there are no exclusions, no forms to fill out and no deductibles to meet before your coverage kicks in. This also means that you won't be denied any claim for any reason. Just visit a participating vet and receive your savings at checkout.
Whether your pet has a pre-existing condition like allergies or periodontal disease, a hereditary condition like hip dysplasia or diabetes, or is a type of pet that isn't traditionally covered by pet insurance like rabbits or birds, you'll save on their veterinary care!
Lost Pet Recovery Service
Enrolling your pets in
Pet Assure
also gives you 24/7 piece-of-mind. We'll send you a pet tag that you can attach to your pet's collar. If your pet ever goes missing, the finder can call the 24/7 lost pet number on the tag. Our operators will call every emergency contact in your account until we can arrange a convenient pickup for your pet.